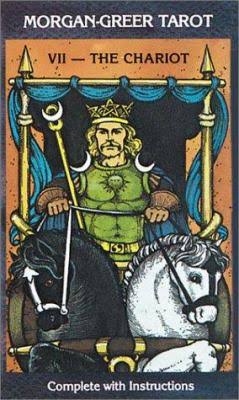 William F Geer, Lloyd Morgan , Book by Susan Gerulskis-Estes
I am sure that we all have a regular go to deck. I always go for the Morgan Greer deck, illustrated in the 1970's by William Geer and based on the teachings of Paul Foster Case and A E Waite. First published by Morgan's but now distributed by U S Games this was popular deck in the time when there were very few. As a deck that was first published in 1979 it seems to bring forward the Glam Rock colours of the 70's and as anyone will tell you I am probably still stuck in that decade! The backs are simple stars possibly conjuring up Marc Bolan's call to wear the stars in your hair.

I like the vibrant colours and have used this deck constantly. The bold bright colours embolden you give bold bright readings. It is great for teaching and great for beginners. When you do the exhibition circuit or even the telephone lines, having a deck of cards that instantly speak to you and your client is important.

When I wrote my book on the Tarot many years ago, I wrote it with this deck in mind. Though the publisher in the end used a Rider Waite variation which meant a quick re-write in places.

I have replaced this deck several times over the year and now use a Spanish edition of the deck to link with my Spanish surname. I have hundreds of decks but still return to these time and time again.
Let me know in the comments section which deck you use as your go to pack. This edition dates from December 1979
From the Publisher
Based on the structure of the Rider-Waite Tarot, this uniquely expressive deck features magical imagery presented in deep, saturated colors. The borderless 78-card deck allows the details of tarot scenery and symbolism to be viewed from a close, intimate perspective. Morgan-Greer Tarot draws the reader into its evocative artwork. When laid out in a spread, the full scenes on borderless cards create a beautiful picture.
The Morgan-Greer Tarot is the first modern tarot deck based upon the combined research of tarot leaders Arthur Edward Waite and Paul Foster Case. The Case book was used a primer by artist Bill Greer in choosing the colors for the Morgan-Greer deck, so as to "create an emotional reaction to each card even before the image could be looked at in depth."