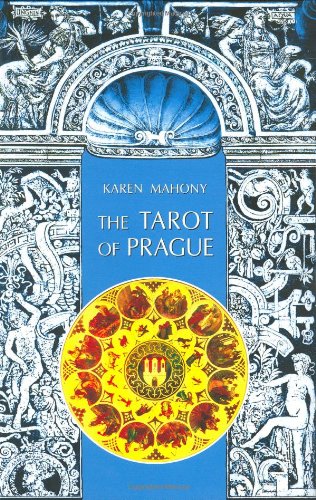 This came in a huge box and card set. The cards themselves are contained within a hard cover with ribbons to keep the deck closed. My first edition says it was limited to 3000 copies. The book and cards were undertaken by Karen Mahony and Alex Ukolov published by Xymbio in 2003. This is one part tarot and one part a guide to Prague with each of the Tarot cards utilising images from Prague and the book goes into the history of each of the locations and images used. Like any deck of this nature the cards are sometimes have a statue or image. It is a city I would love to visit based on these cards and find some of the sites
From the Publisher
The Tarot of Prague is a lavish and beautifully produced book and tarot deck that uniquely captures the rich imagery of the "Magic City". The whole deck is made from literally thousands of original photographs of Prague and each of the 78 cards is an original and stunning collage image. The accompanying book gives in-depth guidance to using this gorgeous Tarot, with interpretations and explanations of the symbolism of each card, together with a look at the history of the imagery used. It also explains how to use the deck for cartomantic readings, and, in addition to more in-depth information, has concise but accurate "short interpretations" and keywords to help you get started right away.
Whether you are a tarot novice or an expert, The Tarot of Prague will reveal new aspects of using the Tarot to gain insights into your life, and at the same time will enrich your experience of the Magic City itself.