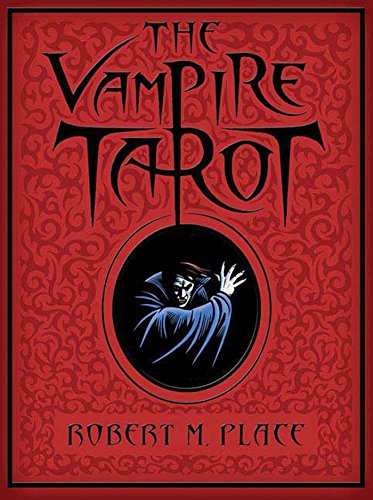 There are quite a few vampire themed Tarot decks, and this is one of the better versions. Written and illustrated by Robert M Place, this incorporates not only cards but an extensive 200 page book the Tarot and Vampires, a detailed history of the Tarot, the occult revival as well as the vampire in our believes and modern media. Robert is a well-respected authority on the Tarot and mysticism, and this comes through in the book possibly better then the cards. The cards themselves depict our more modern view of vampires and some of the illustrations are taken from the Bela Lugosi and Christopher Lee scenes and we also have other interpretations of Dracula. Aklsoi included within the court cards and illustrations of other people that have had an influence on the Tarot or vampires including Pamela Coleman-Smith, Ellen Terry as well as Bram Stoker.
The cards are a little oversized and the suits have been changes, obviously Wands become stakes, but cups become holy water and pentacles become garlic flowers! I have to say that the book is far more interesting than the cards.
The Vampire Tarot ties the tales and mythic figures associated with the vampire legend to the equally iconographic figures and forms of the tarot. This book explores the history of the vampire starting with Bram Stoker's classic 1897 novel, Dracula, as well as those writings that inspired Stoker and the vampire lore that derived from it. Stoker and his most famous work were both closely tied to the classic Rider-Waite-Coleman tarot.
Now, author-illustrator Robert M. Place brings these two mythic traditions together with this extensively researched book that guides the reader through the subtleties and parallels within The Vampire Tarot, providing a guide for getting the most out of reading.
Sure to delight not only tarot devotees but the general fan of the vampire mythos as well.